Holiday Cottage location and activities
What to do and where to visit during your stay at Auchencheyne self-catering holiday cottage accommodation, Glencairn Valley.
The Auchencheyne House and farm and surrounding Glencairn Valley are ideal for relaxing walks, adventure mountain biking or more challenging hikes.
Within easy reach of this quiet, rural holiday cottage accommodation there are lochs, mountains and places of historic interest - with golf courses, castles, arts and crafts, shooting and fishing.
In and around Auchenchenye:
Mountain biking - bikes are available for hire at the cottage for £5/day
Walks - enjoy the gardens, ponds and Auchencheyne farmlands
Farm tours - explore our organic vegetable and animal farm
Tennis - use our competition standard clay tennis court. To hire: £5/hour
BBQ - using your private garden area
Rough shooting - price on request. Roe deer shooting-chiller available.
Horses - Bring your own horse on holiday. Please contact us for details.
3000 acres of farmland to explore either on foot or mountain bike
Fishing on river Nith can be provided.
Auchencheyne House
grounds
Animals on the
Auchencheyne farmland
Within 5 minutes of Auchencheyne:
Moniaive Village:
8 miles west of Thornhill and home to many renowned artists and craftsmen, past and present, including James Patterson, one of the founder members of the 'Glasgow Boys'.

The village has a grocers shop, PO, petrol station and 2 pubs.
Fishing
Pottery
Within 20 minutes of Auchencheyne:
Golf

Drumlanrig Castle:
The ancient Douglas stronghold and Dumfriesshire home of the Duke of Buccleuch and Queensberry is surrounded by the 120,000 acre Queensberry Estate, Country Park and grand Victorian Gardens. Steeped in history, this unique and historic Scottish Castle is filled with treasures, and with its Estate and Gardens is one of the principal visitor attractions in South Scotland, offering Castle tours and guided walks.
Thornhill Village:
Delightful Thornhill village was founded in 1696 by Archibald Napier, whose great grandfather was the mathematician John Napier - famous for inventing the logarithm. Thornhill has a wonderful gift shop and amazing clothes shop and very exciting shoe shop(people come from Edinburgh to purchase!!)
Sailing
Clog making
Andy Goldsworthy, world reknowned artist, lives 10mins from Auchencheyne.
Dumfries and Galloway:
Horse riding - available within 30 minutes of Auchencheyne.
Cycling - this year Scotland is ranked the best place in the world to go biking, with the 7STANES as a highlight, seven purpose-built MTB centres stretching across Dumfries and Galloway and the Scottish Borders, from Glentrool in the west to Glentress in the east.
Southern Upland Way - we are in a great location to offer accomodation to Southern Upland Way walkers.
Plus many more attractions see
> www.visitdumfriesandgalloway.co.uk
Bike riding

Horse riding
and tennis
| top of page |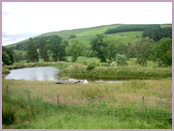 Self-catering
holiday cottage:
Available all year round.

Prices range from:
£390 - £600 per week.

Sleeps:
2 - 6 people

Shorter breaks by arrangement.

Bed and Breakfast:
£35 - £40 per person / night
---
For more information see
> Holiday cottage tariff
> Accommodation
> Facilities
---
To book and check
availability:
Tel:
(44) 01848 200 589

Email: > enquiries